Waste Rendering Plants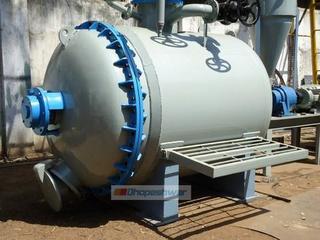 Our Rendering Plants For Poultry include a Digestor-Cooker-Homogeniser unit to cook and sterilize the waste. It is supplied with a sophisticated barometric spray system to scrub all the foul smelling gases released during the cooking of the chicken waste. Poultry waste rendering plants are indispensable in any Poultry dressing operation. They render and convert all the non-edible Poultry waste parts into a sterilized meat meal.

Our digestor based technology has been put to treat 3 different kinds of waste -
1. Hatchery waste - egg shells, unhatched eggs, rejected embryos, etc. This waste is converted into Hatchery meal.

2. Layer Manure - Manure collected under the cages of layer birds in commercial poultry layer farms. This waste is converted into an organic fertilizer.

3. Slaughterhouse waste - Left over, non-edible portions of the chicken such as Head, feet, intestines, feathers, etc. from chicken processing. This waste is converted into a Meat and Bone meal.
Our Esteemed Clientele to whom we have supplied these plants to in India, include:
1. Starchik Specialities Ltd., Hyderabad
2. Sai Agri International Pvt. Ltd., Kakinada (A.P)
3. Talab Poultry Farms, Pune
4. Godrej Agrovet Ltd, Bangalore
5. Kuljasrai Poultry Farms, Amritsar
6. Goel Foods, Shimla
7. Central Avian Research Institute,, Bareilly, U.P.
8. Apoorv Foods, Pathankote, Punjab
9. Gitwako Farms ltd, Mewat dist, Haryana & Alwar, Rajasthan
10. Sri Lakshni Chicken, Ongole, Andhra Pradesh
11. Venky's India Limited, Ludhiana & Allahabad
12. Global Poultry Products, Punjab
13. Mulpuri Foods and Feeds Pvt. Ltd., AP
14. Monrovia Agro Foods, Pune, MH
15. Hanahita Industries, Punjab
16. Kwality Animal Feeds Pvt. Ltd., KN
We have also exported these plants to:
1. Kili Agro & Livestock Products , Tanzania
2. Dandani Farms Nigeria Ltd, Nigeria
3. Carnes De El Salvador, El Salvador, S.America
4. Gee's Fresh Point, Ghana
Enquire Now
Dry Layer Manure Plant
Fresh Layer manure is a natural organic by-product of the livestock sector. Fresh manure is an excellent source of fertilizer because it contains Nitrogen, Phosphorous, Potassium & other crop nutrients. However poultry manure cannot be used in it's raw form. The Layer fresh manure [LFM] contains 75-84% waster. LFM is a big nuisance world-wide as it is the breeding site for flies & source of ammonia odour pollution. Flies are the cause of major health problems in areas & communities surrounding Layer farms.
Nitrogen forms nitrates and other compounds which leach into the soil effecting ground water and also leads to nutrient imbalances and phyto-toxicity in crops. Due to high waster content, disposal of manure involves high labour & transportation cost. it is estimated that a farm with 1,00,000 layers produces 10 tonnes of manure / day or 3,650 tonnes of manure per year. Layer manure is rich in many essential Plant Nutrients like N,P,K. If processed properly it will give a dry, baggable organic fertilizer which can be stored and used.
Manure management in layer farms has become a critical issue due to stringent pollution control measures implemented by governments.
Salient Features of Our technology -
1. Starts with fresh manure in 'as available' condition from the farm without any processing / drying required before loading the manure into our dry manure plant.
2. Efficient vacuum drying system which eliminates odour and air pollution.
3. Robust built machinery, designed for safe operations over many years.
We offer our 'Dry Layer Manure Plant' in 2 capacities, namely,
10 tonnes per day of Layer manure drying.
20 tonnes per day of Layer manure drying.
Other Information
Pay Mode Terms: L/C (Letter of Credit), T/T (Bank Transfer)
Delivery Time: 6 to 8 weeks
Enquire Now
Poultry Fat Extraction Plant
Slaughter of chicken results in separation of non-edible portions and fat.
While the non-edible portions can be generally rendered together as a mix, a fair amount of body fat is separated. This could be about 3.5% of live weight.
This is generally disposed off to the un-organized sector for Fat extraction. Un-processed Fat is not considered healthy, A slaughter of 10,000 birds of Ave. Live weight. 1.6 kg each will result in approx. 550 kg of fat. However, proper technology can give commercial quality oil which is high in linoleic acid and Omega-6 fatty acid content. This oil can be used as a flavouring agent in pet food.
Other Information
Pay Mode Terms: L/C (Letter of Credit), T/T (Bank Transfer)
Delivery Time: 4 to 6 weeks
Enquire Now
Poultry waste Rendering Plants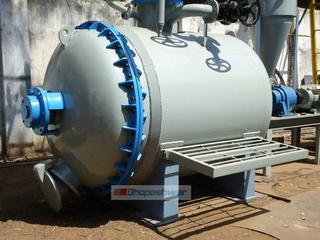 Poultry Waste Rendering Plants for Sterilized Meat Meal are an indispensable part of poultry dressing operations. Poultry dressing or slaughter results in waste which is almost 30 % of live bird weight. All the waste resulting from processing is pressure cooked, sterilized & rendered into a sterilized meat meal. This is also technically known as 'Poultry By-product Hydrolyzed Feather Meal (PBHFM).'
This meat meal made from poultry waste contains about 60-65% protein and 20-22% fat & 8-10% moisture. Hence, Rendering plants are also known as Protein Recovery Plants.
The process of Rendering is done in batches. Our poultry Waste Rendering Plants are supplied in different capacities from 500 Kg. to 3500 Kg of waste per batch. These plants can process about 6000 kg of waste per day in 1 digestor. A battery of digestors can be used when the waste is in a larger quantity. Larger batch capacities can also be supplied.
Following are some of the important features of our rendering plants:
Incorporates the latest vacuum drying operation

Digestor-Cooker- Homogenizer has all the safety features for consistent operations

Incorporates Barometric spray system to absorb all the foul smell. It Prevents air pollution to ensure eco-friendly operations

Robustly built

Provided with sophisticated monitoring system to ensure maximum convenience and safety of operation
Advantages:
Prevents environment pollution by disposing of all biological waste.

Offers optimum utilization of animal resources since meat meal is used for making animal feed

More effective and profitable than any other waste-disposal method

Converts entire poultry waste into high protein sterilized meat meal
Pay Mode Terms: L/C (Letter of Credit), T/T (Bank Transfer)

Delivery Time: 12 to 18 weeks
Enquire Now
Hatchery / Chicken / Goat / Fish Waste Rendering Plant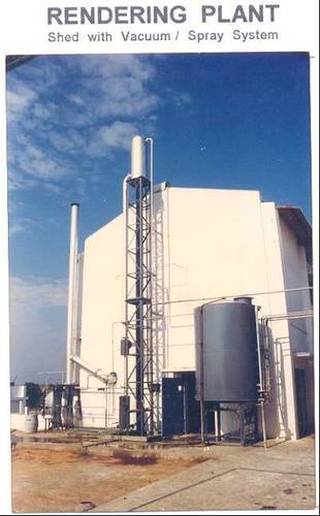 Dhopeshwar supplies Rendering Plants for different types of waste. The Rendering Plant converts your waste into sterilized Meat Meal.
We supply Rendering plants for following :
Hatchery waste
Slaughter House waste
Fish waste
Goat waste.
All our Rendering plants come with advanced odour control Barometric Spray system. Our Waste Rendering Plants for finds wide application in poultry processing industries. The baro spray system sprays are used to ensure Environment-friendly operation in slaughterhouses, rendering cookers. These barometric spray for rendering plants are easy to install and carries low power consumption.
Features:
Environment friendly operation in slaughterhouses

Easy to install

Carries low pressure consumption
Other Information
Pay Mode Terms: L/C (Letter of Credit), T/T (Bank Transfer)

Delivery Time: Delivery on time
Enquire Now